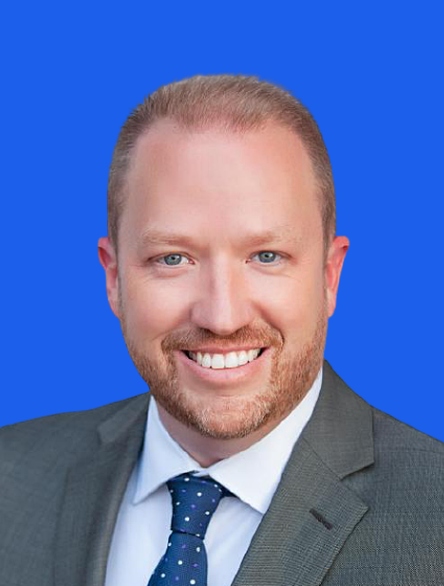 Feeling uncertain about your investments in today's market?
We use Riskalyze to make sure your portfolio represents your comfort level, not ours. Riskalyze is cutting edge technology that identifies your acceptable levels of risk and reward. Using this tool, we ensure that your portfolio defines your investment goals and expectations.
DARRIN BEARDEN
Wealth Advisor
Focused
Darrin Bearden is a financial advisor, investment advisor representative, and Dave Ramsey SmartVestor Pro, who teaches his clients how to pursue financial freedom and gain clarity for retirement. Meaningful connections drive Darrin – his goal is to personally make a difference in the lives of the people he works with.
Darrin believes that financial knowledge is power and that living debt-free, protecting your assets, and consistently investing for the future are crucial elements of a solid financial plan. He meets everyone right where they are, offering his expertise to help them understand their choices and implement changes in all the right places. Darrin has a knack for explaining complex concepts in ways that make good sense, for listening in a way that makes you feel heard, and for treating his clients like part of his family.
Darrin and his partner, Sabrina Proano, launched Clear Blue Wealth in August 2021 because they are deeply committed to helping people find clarity for retirement. Regardless of your starting point with money, Clear Blue Wealth provides a practical, efficient approach that enables you to navigate the dizzying array of financial decisions you face confidently.
Outside the office, Darrin volunteers his time in Guest Services at North Point Community Church, with his men's group at No Longer Bound ministries, and as a Financial Peace University coordinator at Buckhead Church. Darrin is fluent in Spanish and enjoys traveling with his delightful Venezuelan wife and three daughters.
Educated & Licensed
Life & Health, Series 65 held through IFG Advisory, LLC
Master of Business Administration, Georgia State University, Robinson College of Business
Master of Organizational Management, Sorbonne Graduate Business School, Paris, France
Dave Ramsey SmartVestor Pro
Experienced
Financial Planning & Priority Setting
Cash Flow Analysis & Budget Support
Retirement & Life Planning
Asset & Investment Management
Comprehensive Insurance Planning
Contact Information
Darrin Bearden
Wealth Advisor
404-394-0272
darrin@clearbluewealth.com
clearbluewealth.com
102 Bombay Lane
Roswell, GA 30076
Connect with Darrin on LinkedIn
The SmartVestor program is a directory of investment professionals. Neither Dave Ramsey nor SmartVestor are affiliates of Clear Blue Wealth or IFG Advisory, LLC.
Advisory services offered through IFG Advisory, LLC, a registered investment advisor.